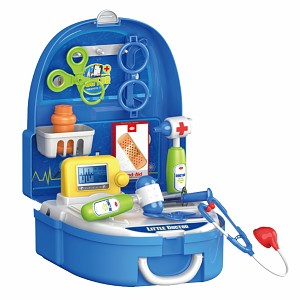 20-piece doctor case
[AS1740]
Doctor's case with lots of accessories
If the teddy bear or doll is sick and needs treatment, the little budding doctors can practice diligently with this suitcase.
This doctor's case is equipped with all sorts of accessories so that your children can play imaginatively - whether alone or with friends and family.
In this way, your child can be relieved of the fear of a real visit to the doctor in a playful way.
A special highlight is that the case can be converted into a backpack with the help of the two straps supplied.
So it can be taken anywhere.
Details:
Accessories: 1x glasses, 1x drug jar, 2x scissors, 1x reflex hammer, 1x syringe, 1x EKG, 1x steadoscope, 1x otoscope, , 1x plaster box (empty), 1x sticker set, 1x storage compartment, 1x

Bracket, 2 straps

Dimensions: approx. 23.5 x 13.5 x 26 cm (L x W x H)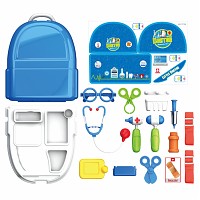 Security advice:
This article is not suitable for children under 3 years of age.
Small parts can be swallowed by children.
Only for domestic use!
Set up by adults only.
Use only under adult supervision.
from the category:
Kinder entdecken die Welt