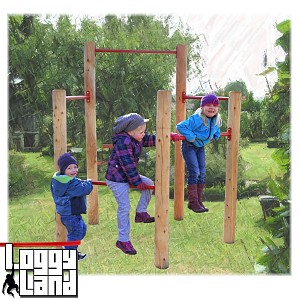 5-way stretching system gymnastics bar, horizontal bar
[LL9631]
No shipping abroad possible!



Playground horizontal bar - five connected horizontal bars
You can set the height of the horizontal bars as you wish.
On the five-man bar in the garden at home, children begin to play sports.
The scope of delivery includes:
2x palisade Ø12cm 200cm
3x palisade Ø12cm 150cm
5x horizontal bar 90cm made of powder-coated metal Ø33mm in the color red
5x ground anchors to screw in made of galvanized steel
5x red caps
Dimensions:
approx. 170cm x 170cm with a height of approx. 200cm
Warning notices according to
EU regulation:
For home use only.
Not suitable for children under three years of age.
Use under the direct supervision of adults.
from the category:
Balance & Gymnastic Appliances