10%
for short time only
only while stocks last
31.49 €*
28.34 €*
Shipping costs for Germany: 5.95 €*
Shipping costs for other countries
Delivery time: 3 - 7 workdays (extended)
5 levels parking garage with 4 cars and 1 helicopter
[GR1684]
Parking garage with 5 levels - elevator, workshop, car lift - including 4 cars and helicopters
This complete play set offers a lot of fun
The mechanical elevator takes the vehicles to the desired deck using a crank - people can be "loaded" on the other side.
It does not matter whether the 4 vehicles supplied (metal body) or similar brand models are used.
In the event of a collision and personal injury, the helicopter is ready to go.
On the ground floor there is a workshop, gas station, driveway to further floors with barrier and elevator entrance.
The vehicles do not automatically drive on the fourth floor to the ground floor, but land one floor below.
Structure dimensions: W x L x H approx. 55 x 34 x 54 cm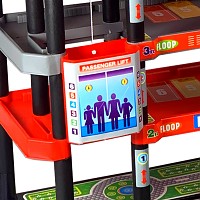 from the category:
Parking Garages