Baking set No. 1 - 13 pieces with baking sheet, cookie cutters, rolling pin and spatula
[MA1721]
Baking set No.
1 - 13 parts
consisting of:
Baking tray Ø 20 cm - temperature resistant up to 180 ° C

10 different colored plastic cutters, approx. 5.5 x 4.5 cm

Rolling pin / rolling pin approx. 24 cm Ø 3.5 cm

Spatula / dough scraper with silicone lip
Recommended minimum age: 5 years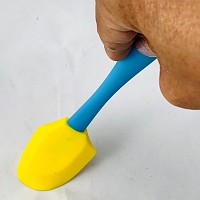 Warning notices according to EU regulation:
For home use only.
Not suitable for children under three years of age.
Use under the direct supervision of adults.

Recipe:
Ingredients:
200 g butter (room temperature)

100 g of sugar

300 g of flour

25 g cornstarch

1 packet of vanilla sugar

Decoration: frosting, chocolate topping, sprinkles, etc.
1. Preheat the oven to 180 degrees.

2. Mix the sugar, vanilla sugar and butter into a foamy mass.

3. Mix the flour with the cornstarch and add it to the foamy mass.

4. Knead until a dough is formed.

5. Put the dough in the refrigerator for 1 hour.

6. Roll out the dough on a floured work surface (approx. 0.3-0.5 cm thick).

7. Now you can start cutting out the cookies.

8. Carefully place the cookies on a baking sheet lined with baking paper.

9. Bake the cookies on the middle rack for 8-10 minutes.

10. Decorate your cookies however you want!