Baking set No. 3 cupcake trays, 12 silicone muffin cups, 23 piece set
[MA1723]
Baking set No.
3 - 23 parts
consisting of:
Baking pan / baking tray for 12 muffins, dimensions 29 x 19 x 2.3 cm, heat-resistant up to 220 ° with silicone handles
12 silicone baking molds for muffins or cupkakes (size approx. Ø 4.5 x 2.3 cm)
Whisk / whisk made of silicone, length 24 cm
Silicone spoon, length approx 18.5 cm
Brush made of silicone, length approx 18.5 cm
2 dough spatulas / dough scrapers with silicone lip length approx 18.5 cm
Dough syringe length 21 cm with 4 different attachments for decoration
... and recipes for muffins
All utensils are dishwasher safe and food safe.
Recommended minimum age: 5 years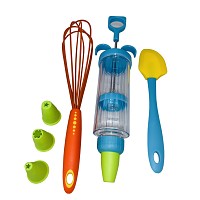 Warning notices according to EU regulation:
For home use only.
Not suitable for children under three years of age.
Use under the direct supervision of adults.


Recipe:

Mini muffins

Ingredients: (quantities are sufficient for 12 muffins)

150 grams of flour

1 teaspoon Baking powder

1 pinch of salt

2 tbsp cocoa powder

125 g margarine

125 g of sugar

2 eggs

75 grams of chocolate (chopped) or chocolate drops

Decoration (as you like): Smarties, chocolate icing, sprinkles, etc.


1. Preheat the oven to 180 degrees.

2. Mix the sugar, margarine and eggs to a frothy mass.

3. Mix the flour with the baking powder and the cocoa powder and add it to the foamy mass.

4. Stir until a smooth dough is formed.

5. Turn the chopped chocolate or chocolate drops in a little flour, knock them off and gently stir them into the dough with your hand.

6. Place the muffin cups in the baking tray and fill them 2/3 with the batter using the baking spoon.

7. Bake the muffins on the middle rack for 12-15 minutes (Tip: You can use a toothpick to check whether your muffins are ready: use the toothpick to pierce a muffin, if nothing sticks to it, your muffins are ready.)

8. Decorate your muffins however you want!