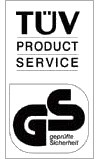 Bird`s Nest Swing Seat Ø 120 cm
[U7081-01120]
Swing Seat 'STORK`S NEST'
Popular swing seat on every playground.
Allows children of all ages to join in shared play.
Safety certificates: TÜV EN 1176
Approved for domestic and commercial use.
Dimensions & Material:
Diameter: 120 cm
Ropes: Usacord Long-life, tear-restistant, Ø 16 cm
Max. load: tested up to 1000 kg
Colours: optional red/blue or black/blue
Assembly:
Max. swing frame height: 300 cm
Safety space:
Width 280 cm, Length according to beam height
Rope length will be customized.
Mounting hooks are included.
Please note: For the complete assembly you do also need:
2 Cardan Joints
2 Safety Bolts
2 Assembling Sets
Sold sepaerately in our
shop .
Approx. delivery time: 14 days after receiving payment