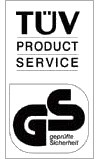 Bird`s Nest Swing Set Ø 100 cm
[LL9170]
Bird`s Nest Swing Set for Commercial Use
Swing set with roundwood swing frame made of larch wood and bird`s nest swing seat.
It is delivered with timbers (4 posts, 1 ridgepole), bird`s nest swing seat, stainless steel cardan joints, assembly set, ground anchors (galvanized steel), thread rods and all the screws you need for building your bird`s nest swing.
Dimensions:
Posts: Ø 16 cm, Length 3 m each
Ridgepole: Ø 16 cm, Length 4 m
Swing Frame Height: 2.50 m
Seat Diameter: 100 cm
Safety certificates: Swing seat TÜV/GS tested according to EN1176
Approved for domestic and commercial use.
Maximum load tested: 1000 kg
Assembly:
This swing set will be shipped knocked down and requires assembly. Without pre-drilled holes. Assembly instructions are included.
To order pre-assembly click here
Optional accessories:
Playground Sand
Environmental Friendly Lasur Paint
Product information
Larch wood is well known for its sturdiness and longevity.
However, timber is a natural product and 'shakes' (cracks & splits) are natural features of any timber and will vary in size, expanding and contracting, depending on ambient temperature and humidity.