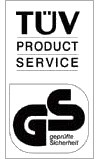 Climbing Pyramid 4.50 m with 2 Playlevels
[U7070-0100450]
Dispatch abroad, unfortunately, not possibly!
Climbing pyramid 4.50 meters high with two play levels
The two play levels can be reached with rope ladders and climbing nets.
The top level is designed as a lying surface.
The pyramid consists of multi-colored ropes with ball connectors.
Net: Hercules 16 mm, 6 shafts, PPM with steel core
Post: steel tube 152.4 x 4.5 x 5350 mm, hot-dip galvanized (powder coating possible for an extra charge of € 435.00.)
Anchor straps: set, 8 pieces, hot-dip galvanized steel, complete with shackle and chain
Tensioning elements: M16 turnbuckle, hot-dip galvanized
Height above playing level: 40-450cm
Diameter: 700cm
Safety area: Ø 1100cm
Max.
free fall height: 2 m
Playing levels within: 2 pieces, offset horizontal nets, accessible via rope ladders
from the category:
Pyramids