15%
for short time only
only while stocks last
93.45 €*
79.43 €*
Shipping costs for Germany: 5.95 €*
Shipping costs for other countries
Delivery time: 3 - 7 workdays
EKO - Snow-Star 80 anthracite - single slide, child's slide, 3 in 1
[EKO-0177]
EKO® SNOW-STAR 80 - Strong slide for children and teenager
3 in 1
inlcudes slide seat and push bar
EKO
®
SNOW-STAR - the slide for 1 person with aesthetic-functional and traditional design with deliberating construction.
The wide plastic skids are equipped with ambossed, stainless steel skids (CrNiTi 18/10) and give a excellent slip- and steering properties on toboggan runs but also on fresh snow or corn snow.
The front and rear section are rounded and offer a special security with the straps. e Sicherheit.
Quality product from Switzerland
The EKO
®
SNOW-STAR is produced with the injection moulding process and is
cold-resistant up to -50°C.
Measure: L 80 cm, W 40 cm, H 28 cm
Color: anthracite
Load capacity: 50 kg
Push bar
The universal push bar EKO® BENNY is changing the family walk in the snow into a easy child's play.
Use the slides pushing aid together with the JENNY seat all the time.
Included to the scope of supply are 4 special screws with hands nuts for a strong connection.
Color:
black/ silver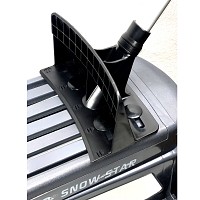 Measure:
L 55 cm, W 24.5 cm, H 70 cm
Installed to the Snow-Star the push bar has a length of 83 cm - height of the push bar 93 cm with a handle width of 28 cm.
Sliding seat JENNY
For the installation of a foot muff or lambskin there are slots on all sites of the seat.
A quick acting closure for the toddler and also 4 special screws with hand nuts for a perfect connection are inlcuded.
EKO
®
JENNY is produced with the injection moulding process out of brand-polyethylene (HD-PE) and is cold-resistant up to -50°C.
Measure: L 36 cm, W 38 cm, H 25 cm
Color: red
Warnings EU Regulation:
Only for the private use.
Not suitable for children younger than 3 years.
Using under adults watch.
from the category:
Sledges