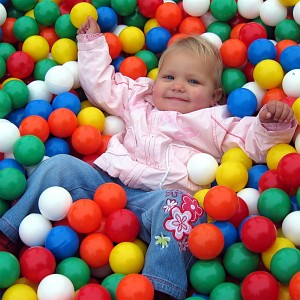 EURO-MATIC Playpen Balls 1000 Pit Balls 60mm
[875041a]
1000 EURO PLUS® Pit Balls
What's a BALL PIT without lots of BALLS?
Ball pits are a big hit with kids ages 1 and up. Turn any playhouse, inflatable moon-walk bouncer or baby playpen into a big, fun ball pit! These EURO PLUS® balls come in 6 bright colors to enhance interactive fun.
Your kids will have tons of safe and interactive play fun!
Safe & TÜV tested
The constituent materials that go into making the EURO PLUS® Playpen balls are all F.D.A. approved. From the colorants through to the Low Density Polyethylene plastics (which includes U.V. inhibitor) materials are carefully chosen to ensure the balls do not suffer degradation from U.V. sunlight and that they conform to stringent US and European flammability and toxicity legislation.
Dimensions:
ball diameter = 60 mm
1 ball = 0.003721 cubic meter
500 balls = 0.1134905 cubic meter = 1 bag of balls
5500 balls = 1 cubic meter
1 bag contains 500 balls
from the categories:
Balls
,
Ball Cage Centre