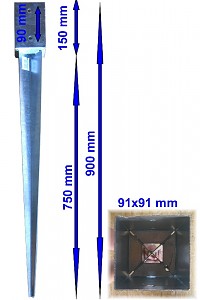 Ground Anchor 91x91x900mm
[H7005-20001]
Hot-dip galvanized ground anchor
For 90 x 90 mm posts.
Dimensions approx. 900 x 91 x 91 mm.
Thickness: 2 mm.
Extremely weather-resistant.
Danger:
This item is not suitable for children under 3 years.
Small parts can be swallowed by children.
Only for domestic use!
Please note the safety instructions on the assembly instructions.
Construction only by adults.
Use only under adult supervision.
from the category:
Einschlagbodenhülsen