This product is currently not available
Delivery time: 10 - 14 workdays (extended, bulk goods)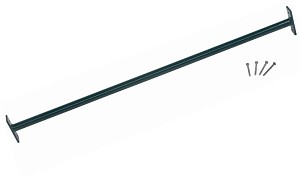 Horizontal bar 125cm green
[H7413]
Horizontal bar made of powder-coated metal in green complete with 4 hexagonal wood screws (8x80)
The bar has a diameter of 33mm and a length of 1.25m.
The wall thickness of the panels is 2.5mm, 4 hexagonal wood screws are included for the lateral fastening.
Caution:
This article is not suitable for children under 3 years of age.
Small parts can be swallowed by children.
Please note the safety instructions on the assembly instructions.
Set up by adults only.
Use only under adult supervision.
from the category:
Reckstange - Turnreck