This product is currently not available
Delivery time: 10 - 14 workdays (extended, bulk goods)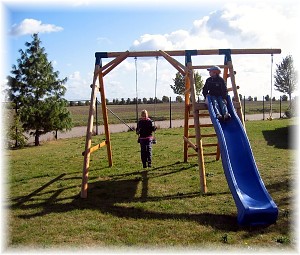 LoggyLand playground set ULTIMATE Height: 2.10m
[LL8013]
No shipping abroad possible!

The LoggyLand playground set ULTIMATE includes a swing, a slide, a rope and a platform for climbing.
This gives you the three elementary playground equipment in one set.
If you want to make children's eyes light up and bring peace to your own four walls, the LoggyLand playground set ULTIMATE is the right choice.
A playground in your own garden not only gives your children the opportunity to move around in nature in an imaginative way, but also gives you the advantage of always having your little ones in view from the house.
Climbing on the rope or on the podium promotes body control in children and enables them to experience heights in a safe environment.
Children love the calming back and forth when rocking; a swing should therefore not be missing in any playground.
Experience field for speed.

With the LoggyLand playground set ULTIMATE you can bring lots of fun into your home and your children away from the television and computer.

The wooden frame made of European larch wood is also very resistant in its natural state and can be used outdoors without impregnation.

The slide is made of HDPE plastic and is guaranteed to be weatherproof.

This playground set includes a swing seat with metal insert and fastening ropes as well as a climbing rope.
However, rings, trapezoids or the like can also be attached.

The ULTIMATE playground set complies with the safety regulations for private playgrounds according to DIN EN 71-8.

Dimensions: approx. 405cm x 465cm with a height of approx. 210cm

Don't forget to order the right ground anchor!

Delivery:
Shipping with a forwarding agent, delivery is made to the curb.
Delivery is only possible Monday to Friday from 8 a.m. to 4 p.m. Unfortunately, it is not possible to agree a time.

Note:
For shipping by forwarding agent, we need your telephone number so that the delivering forwarding agent can contact you about the delivery date.


Warning notices according to EU regulation:
For home use only.
Not suitable for children under three years of age.
Use under the direct supervision of adults.
from the category:
LoggyLand Schaukeln