We are happy to receive your Moveandstic order, but because of the current situation we can not deliver on time.
We have planned the production so we can deliver to you completely starting August 24th, even with a skeleton staff.
Thank you for your understanding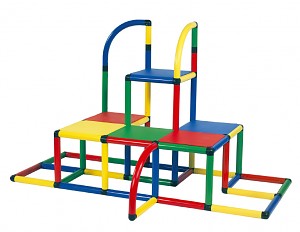 Moveandstic Junior construction kit
[875055]
Enter a wonderful world of constructions and creative buildings with the Moveandstic Junior kit. It's fun for all the family.
The Moveandstic Junior construction kit contains:
2 x 6 way connector, black
1 x 5 way connector, black
14 x 4 way connector, black
6 x 3 way connector, black
7 x 3 way T connector, black
7 x 2 way elbow connector 90°, black
3 x 2 way straight connector
4 x tubes 15 cm, blue, green, yellow, red assorted
59 x tubes 35 cm, blue, green, yellow, red assorted
3 x curved tubes 90°, blue, yellow, red assorted
6 x panel 40 x 40 cm, blue, green, yellow, red, assorted
25 x panel clips, black
135 x tube clips blue, green, yellow, red assorted
1 x key for all clips
from the category:
Construction Kits