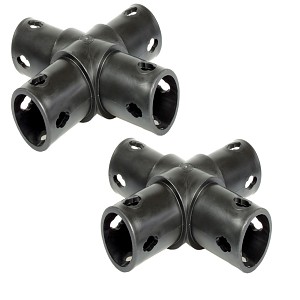 Moveandstic set of 2 surface coupling 4-armed, black
[MAS-6321]
With the 4-armed Moveandstic surface coupling you can connect pipes on all four sides.
This 4-way surface coupling is mainly required to build side walls and railings.
It is also advisable to have additional 4-armed surface couplings on hand for combining different construction sets.
Assembly:
Insert the coupling 5 cm deep into the pipe
Insert fuse
Turn the lock 90 ° with the key
Finished
For information: Each coupling extends a pipe by 5 cm.
Caution:
This article is not suitable for children under 3 years of age.
Small parts can be swallowed by children if they are not assembled.
Set up by adults only.
Use only under adult supervision.
from the category:
Couplings