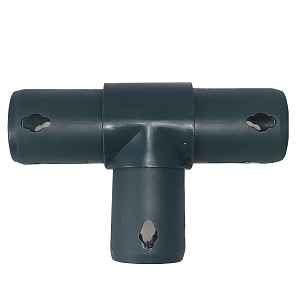 Moveandstic surface coupling 3-armed, titanium gray
[MAS-1675]
With the 3-armed surface coupling from Moveandstic, you can connect pipes on all three sides.
This T-Coupling is required to build side walls, railings and handrails.
New creations can also be implemented quickly with this coupling.
Assembly:
Insert the coupling 5 cm deep into the pipe

Insert fuse

Turn the lock 90 ° with the key

Finished

For information: Each coupling extends a pipe by 5 cm.
Number of 3-armed surface couplings in the kits:
4 pieces in the basic

2 pieces in the starter

7 pieces in the junior

6 pieces in the professional

8 pieces in the pool
Caution:
This article is not suitable for children under 3 years of age.
Small parts can be swallowed by children.
Only for domestic use!
Please note the safety instructions on the assembly instructions.
Set up by adults only.
Use only under adult supervision.
from the category:
Couplings