Moveandstic toddler playhouse with colorful slide
[MAS-6451]
Playhouse for toddlers with entrance and baby slide (HEIGHT 40 cm) - construction kit - the play pass for inside and outside
The first slide does not always have to end up in the trash or be passed on when the toy has become boring.
You can always do something with this slide.
Bought a few additional parts and in no time you created a new piece of play equipment that meets the growing demands of children in terms of motor skills development and fun.
Once started, you just don't want to stop - and passing on the material makes this indestructible material possible.
Size: L x H x W 2.44 x 1.37 x 1.04 m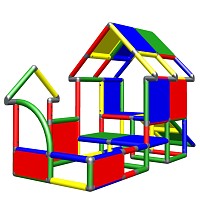 If required (e.g. for use in kindergarten or with the childminder, we can offer you the same model with aluminum reinforcement for an additional charge. Please give us a call!
Warning notices according to
EU regulation:
Warning: Not suitable for children under 3 years of age when unassembled.
Small parts can be swallowed.
Use only under adult supervision.
from the category:
Toddler Sets