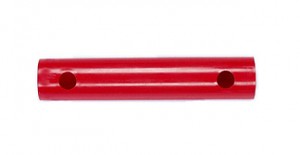 Moveandstic tube 25 cm, red
[875025]
The only Moveandstic construction kit containing 25 cm long tubes is the Basic kit. If you want to build a roof you need 6 of these tubes. They are also used for ladders and children's chairs. For a chair you will additionally need a panel sized 30 x 30 cm.
You will soon realise that you need more of these tubes. You will be glad to have bought some additional tubes and there will be no delay in finishing your construction.
Instruction:
Stick the tube to the connector
Turn the tube until the hole in the connector and the one in the tube match.
Place the tube clip
Turn the clip with the key 90°
Done
from the category:
Tubes