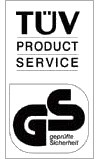 Rotating Cone Climber
[U7072-0101 TypA]
Dispatch abroad, unfortunately, not possibly!
Rotatable climbing tower with climbing net
Climbing tower for children from 6 years.
Net: USACORD Long-Life 16 mm, 4-strand, PPM with steel core
Post: steel tube 152.4 x 4.5 x 3850 mm, hot-dip galvanized, powder-coated
Ring: Ø 200 cm
Height above playing level: 40-300cm
Safety area: Ø 500cm
Max.
free fall height: 3 m
TÜV tested according to DIN 1176
Suitable for private and public playgrounds.
We recommend sand as a substrate.
from the category:
Rotatable Rope Towers