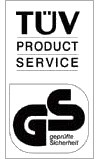 Rotating Cone Climber "Bieberkopf" with Relax Area
[U7077-0106 Typ N]
Rotating Cone Climber
Cone Climber with area to relax on bottom ring.
Recommended age: 6+
Safety certificates: TÜV according to DIN 1176.
Approved for domestic and commercial use.
Materials:
Ropes: USA-CORD Long-Life, 16 mm
Made of PPM (Polypropylene-Multifilament) with steel core.
Poles: galvanized steel; red powder coated
Dimensions:
Playlevel: 40-300 cm
Max. fall height: 300 cm
Ø Ring: 160 cm lower
Poles: 152.4 x 4.5 x 3850 mm
Safety perimeter: 500 cm
Assembly:
A 80 x 80 x 60 cm concrete foundation is required.
For critical fall height of 3000 mm safety surfaces according to EN 1177 chart A.1 must be used.
F. ex. sand with a 0.2 to 2.0 mm grain size.
from the category:
Rotatable play towers