Ship bell bell for play tower or play house orange
[K2022]
Ship bell or bell for play tower/ play house
Bell out of high quality, weather resistant polypropylene injection moulding with the inner part which consists out of metal!
The perfect adaption for a play tower, play house or stalk house.
The small metal bell makes a realistic sound.
Bell diameter lower part 20cm
Heigh of the bell 18cm
Including a bracket and two wood screws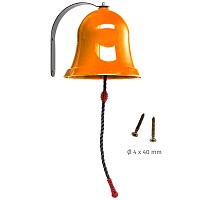 Warnhinweise gem. EU-Verordnung:
Nur für den Hausgebrauch.
Nicht für Kinder unter drei Jahren geeignet.
Benutzung unter unmittelbarer Aufsicht von Erwachsenen.
from the category:
Sonstiges