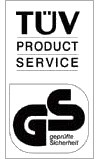 Spring rocker nest Ø 120 cm
[U7331-01820]
No shipping abroad possible!
This quality spring rocker is very durable, weatherproof and almost indestructible.
The spring rocker nest has a diameter of 120 cm, corresponding to the stork's nest.
The 3 swing springs are painted, the steel frame, the support plate and the nest holding plate are steel
galvanized.
The max.
free fall height is 80 cm.
The spring rocker is delivered completely pre-assembled.
This spring seesaw is great fun in kindergartens, shopping centers and on public playgrounds, especially since several children can play at the same time.
Material nest: USACORD Long-Life 16 mm, 4-shaft, PPM with steel cables
Safety area: Ø 420 cm
from the categories:
Seesaws public space
,
Federwippen