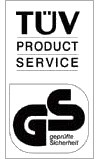 Steel Ridgepole for Wooden Swing Frames
[RT7143-1253 18]
Swing Crossbeam
Made of galvanized steel. Fits 4 wooden square-sized timbers (9x9 cm).
Comes with stainless steel swing joints.
Fits 2 swing seats: baby & toddler-seats, flat seats, wraparound or tire swing seats.
Safety certificates: TÜV tested according to EN1176
Approved for domestic and commercial use.
Timbers, ground anchors and swing seats are sold seperately.
from the category:
Swings public space