Triangle Sun Shade Sail Awning 4.5x4.5x4.5m
[Austronet932-Dreieck 4500cm]
Traingle Sunsail
Our sunsails with their airy-lightly character set architecturally delightful accents and offer you a shady and cool place at your house.
They meet the highest claims of quality. The perfect processing and extremely resistant material Austronet has been proven by continuous use for many decades for large surface shades.
Dimensions:
4.5 x 4.5 x 4.5 m (triangle)
Material: Austronet 932
Colours: white, yellow, orange or red
Please tell us your colour choice with your order.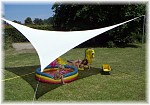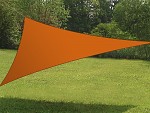 from the category:
Awnings