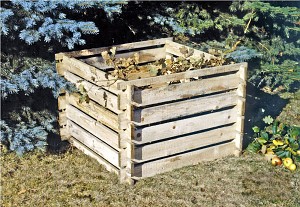 Wooden composter compost silo 120x120x70 cm -KDI- plug-in system
[J9578]
Compost silo 120 x 120 x 70 cm - pressure-impregnated pine

High quality wooden composter

Plug-in system (set up in no time) made of 20 mm rough sawn pine boards

Air for the compost:
In addition to a sufficient supply of oxygen, it is crucial for the decomposition process inside. Pay attention to the wide gaps between the individual boards of our composter. They are used for ventilation. In this way, the right climate can only be created in the compost in order to effectively and ecologically destroy unwanted pests and weed seeds.

Prepare compost:
The composter should not be filled higher than 70 cm. Tip: If you are preparing fresh compost, "inoculate" it with rotted compost. It contains everything that small organisms have to build up in a new compost. The base is a layer of twigs so that the air can circulate. Cover the full composter with soil.

Compost is ready when it feels crumbly and has a dark brown, fresh color.

Composting is very easy - with two storage facilities side by side. One for waste from the kitchen and garden, the other for the maturing compost.

Danger:

This article is not suitable for children under 3 years of age.
Small parts can be swallowed by children.
Only for domestic use!
Please note the safety instructions on the assembly instructions.
Set up by adults only.
Use only under adult supervision.
from the category:

Komposter