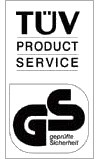 Anbauedelstahlrutsche Rutsche Edelstahl mit Ohren
[RT7199-11090 1750 2000]
No shipping abroad possible!
Stainless steel-chute to the additional building - kindergarten-useful -
with ears and pole - podium-height 1750mm - 2000mm
The chute is out of 2mm strong stainless steel (it is polished beamless). The tubes are out of 38x2mm strong stainless steel
(High polish-surface is polished beamless)
The breadth of the chute amounts to 500mm.
TÜV tested
Fixation: You simply embed the feet of the chute in concrete. Screws for the tower-fixation are not contained.
This slide must be checked thoroughly upon delivery to determine whether there has been any transport damage, as it is being delivered to the customer directly from abroad and otherwise we cannot make any complaints to the manufacturer.
Delivery time after receipt of payment: approx. 14 days
Danger:
This article is not suitable for children under 3 years of age.
Please note the safety instructions on the assembly instructions.
Set up by adults only.
from the category:
Stainless steel slides