Astronaut children's slide - pink
[ZW-1771]
Astronaut Indoor - playground or garden's slide
Doesn't matter if you will stand up the slide indoor or outdoor. Your child will have a lot of fun with it.
The slide can be fold and can be stown space-saving. It can be taken on trips or visits at grandma's and grandpa's home are possible because you can easily take the slide with you everywhere.
With this slide you are offering your child a lot of sliding fun. Because of the non-slip climbing steps eventhough the youngest can climb the slide.
Details:
Details:
maximum weight 40 kg
fold
space-saving stown
suitable for the garden or for the house
steps with non-slip coating
length of the sliding surface 160 cm
width of the sliding surface 34 cm
height of the slide 60 cm
margins above 15 cm
margins below 8 cm
secured standing because of the wide contact area (slide can not tip over)
functional and comfortable
age recommendation from 3 years
ergonomic design
weather resistant material
at home or on the way
easy assembly
easy to build up
functional and comfortable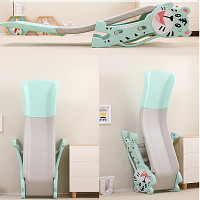 Beispielbild (Farbe wie oben gezeigt)
Warnings EU Regulation:
Attention: In unmounted condition not suited for children younger than 12 months.
Small parts can be swallow.
Only using under adults watch.
Not suitable for children younger thany 18 months.
from the categories:
Slides & combined with slide
,

Toddler Slides