This product is currently not available
Delivery time: not available at the moment
EKO - SNOW-COMET 90 Darkgrey
[EKO3520.90]
EKO® SNOW-COMET 90 - Bob Sledge for children 3 years and up
On ski runs, sled tracks or ordinary paths, the EKO® SNOW-COMET easily outdistances the rest. It's really easy to steer on those fast runs, no matter whether they're curvy or straight as a die.
The one-handed-brake acts firmly on packed-down tracks or icy slopes.
Swiss Made Quality
EKO® SNOW-COMET is made of branded polyethylene (PE) and is temperature resistant up to -50ºC.
Will be delivered fully assembled and ready to use.
Colour: darkgrey
Dimensions: L 90 cm, W 45 cm, H 28 cm
Max. load: 50 kg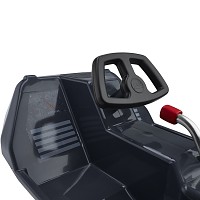 from the category:
Bob Sledges