This product is currently not available
Delivery time: not available at the moment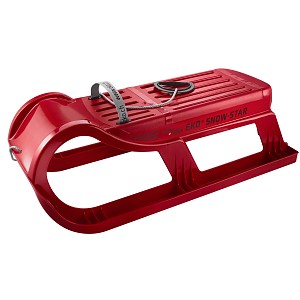 EKO-Snowstar 80, rot Schlitten
[EKO3010.99.52]
EKO® SNOW-STAR 80 - Sturdy 1-Seat Bob for Children and Teens
Quality Toboggan made in Switzerland with functional design and superior construction. Stainless steel runners (CrNiTi 18/10) provide outstanding gliding and handling characteristics in all snow conditions. Rounded front, back and grips for additional safety.
Dimensions: L 80 cm, W 40 cm, H 28 cm
Colour: red
Max. load: 50 kg
Temperature resistant up to -50°C.
Additional EKO® SNOW-STAR Equipment in our shop:
Halogen Lamp
Signal-Horn
Sledge-Cushions
Toddler-Seats
from the category:
Sledges