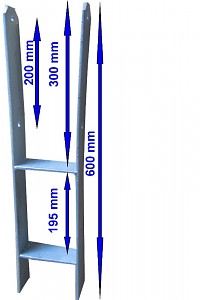 H-Shaped Ground Anchor 600x121x5mm
[H7008-9004]
Hot-dip galvanized H-anchor

For setting in concrete.


For 120 x 120 mm posts.


Dimensions: approx. 600 x 60 x 131 mm.
Thickness: 5 mm.



Extremely weather-resistant.
Danger:
This item is not suitable for children under 3 years.
Small parts can be swallowed by children.
Only for domestic use!
Please note the safety instructions on the assembly instructions.
Construction only by adults.
Use only under adult supervision.
from the category:
H-post carrier