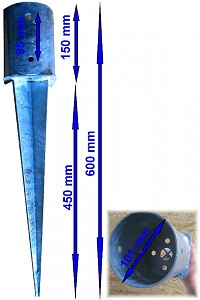 Impact ground sleeve round Ø 101 mm
[H7006-90002]
Impact ground sleeve for round wood

Galvanized imoact ground sleeve for wood bales with a diameter of 120 mm. Extremely weather resistant.

Measure:
Ø 101 mm
Height: 600 mm
Strength: 2,2 mm


Attention:

This article is not suitable for children younger than 3 years.
Small items may be chocked.
Only for the home use!
Please also notice the safety notifications of the assembly instruction.
Building only by adults.
Only use under adults watch.
from the category:
Impact ground sleeve