This product is currently not available
Delivery time: 10 - 14 workdays (extended, bulk goods)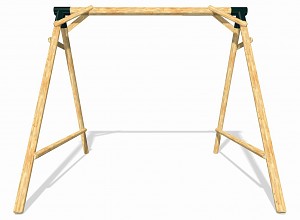 LoggyLand basic structure for the playground set VOYAGE Height: 2.10 m
[LL8016]
No shipping abroad possible!

Basic structure for two swings
Choose the LoggyLand framework for our playground set VOYAGE to choose which swings and swing hooks you want to use.
Thanks to the robust construction made of European larch wood, the LoggyLand framework can be placed outdoors in its natural state.
To complete this playground set you will need:
2 x swings
4 x swing hooks
Delivery:
Shipping with a forwarding agent, delivery is made to the curb.
Delivery is only possible Monday to Friday from 8 a.m. to 4 p.m.
Unfortunately, it is not possible to agree a time.
Note:
For shipping by forwarding agent, we need your telephone number so that the delivering forwarding agent can contact you about the delivery date.
Warning notices according to
EU regulation:
Not suitable for children under three years of age.
Use under the direct supervision of adults.
from the category:
LoggyLand Frameworks