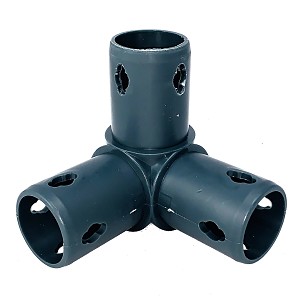 Moveandstic 3 way connector, gray
[MAS-1673]
Connect 3 tubes to the Moveandstic 3 way connector. The 3 way connector is mostly used for corners. It's not a bad idea to have a small stock of them.
Instructions:
Stick the connection 5 cm deep into the tube
Place a clip and use the key to turn it 90°
Done
For your information: Each connection extends the tube of 5 cm.
Number of 3 way connectors in each kit:
6 pieces in Basic
4 pieces in Starter
6 pieces in Junior
12 pieces in Profi
10 pieces in Pool
from the category:
Couplings