Wir freuen uns sehr über Ihre Moveandstic-Bestellung, aber wegen der momentanen Situation haben wir Lieferschwierigkeiten.
Wir haben die Produktion so geplant, dass auch mit Notpersonalbesetzung die komplette Auslieferung an Sie in der 1. Maiwoche stattfindet.
Das können wir Ihnen zusichern.
Vielen Dank für Ihr Verständnis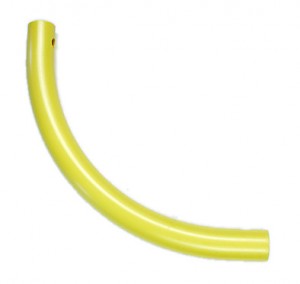 Moveandstic curved tube, yellow
[875039]
There are only a few curved tubes in Moveandstic construction kits. These tubes are used for railings and roofs. We recommend buying additional curved tubes to reach a total of 6 pieces. You will need 4 to 6 tubes for a roof or one for the ending of a rail. There are many possibilities to use these tubes. Creative people even design a lamp.
Instruction:
Stick the tube to the connector
Turn the tube until the hole in the connector and the one in the tube match.
Place the tube clip
Turn the clip with the key 90°
Done
Number of curved yellow 75 cm tubes in each kit:
1 piece in Starter
1 piece in Junior
1 piece in Profi
from the category:
Tubes