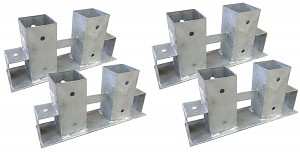 Set of 4 stacking aid for firewood
[H8470]
Set of 4 wood pile holders for square timber
For quick and easy stacking of your firewood.
Product features:
adapts to every corner or house wall
with pre-drilled holes for screwing the square timbers
The height and width of the firewood holder are variable in width and height through the use of squared timber of different lengths
Material: steel, hot-dip galvanized
Dimensions:
Overall dimensions holder: approx. 34 x 10 x 15.5 cm
Dimensions (WxD) of the necessary squared timber: across approx. 4 x 6 cm, high approx. 6 x 8 cm
Square timbers are not included in the scope of delivery!
from the categories:
Accessories for goals, doors, fences
,
Garteneinrichtung