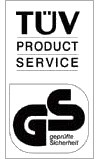 Add-on slide, stainless steel slide, hill slide, 100cm wide
[RT7198-11090 2000 1M]
No shipping abroad possible!

Material: stainless steel, AISI 304
Sheet thickness: 2.5 mm
Handrail: 38 x 2 mm
Safety crossbar: 38 mm
High gloss surface, matt polished
Width: 1000 mm
Slide length: approx. 3.52 m
Extension / platform height: 1.75 - 2.00 m
TÜV tested according to EN 1176
for attachment to play towers, tree houses, hills etc.
Suitable for public areas, kindergartens, schools, restaurants or for the exclusive private playground.
This slide must be checked thoroughly upon delivery to determine whether there has been any transport damage, as it is being delivered to the customer directly from abroad and otherwise we cannot make any complaints to the manufacturer.
Delivery time after receipt of payment: approx. 14 days
Caution:
This article is not suitable for children under 3 years of age.
Please note the safety instructions on the assembly instructions.
Set up by adults only.
from the category:
Stainless steel slides