This product is currently not available
Delivery time: 10 - 14 workdays (extended, bulk goods)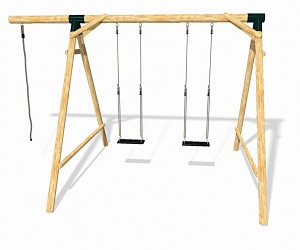 LoggyLand playground set BOUNCE Height: 2.10 m
[LL8007]
No shipping abroad possible!

Get yourself and your children moving in your own garden with the LoggyLand playground set BOUNCE.
If synchronized swings were an Olympic discipline, you could now train at home with the BOUNCE playground set.
The double swing with climbing rope offers fun and cheerful activity in the fresh air.
While swinging, children naturally train their sense of balance and are calmed down by the gentle rocking movements.
Don't forget to order the right floor anchor!
Delivery:
Shipping with a forwarding agent, delivery is made to the curb.
Delivery is only possible Monday to Friday from 8 a.m. to 4 p.m.
Unfortunately, it is not possible to agree a time.
Note:
For shipping by forwarding agent, we need your telephone number so that the delivering forwarding agent can contact you about the delivery date.
Warning notices according to
EU regulation:
For home use only.
Not suitable for children under three years of age.
Use under the direct supervision of adults.
from the category:
LoggyLand Schaukeln