15%
for short time only
only while stocks last
2,149.00 €*
1,826.65 €*
Shipping costs for Germany:
150.00 €*
Shipping costs for other countries
Delivery time: 10 - 14 workdays (extended, bulk goods)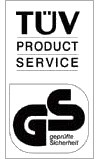 dump swing consisting out of larch wood with chair swing Ø 120 cm
[LL9171]
Dump swing for kindergarten and official play grounds
Complete swing with swallow's nest chair swing and larch wooded frame.
Quality and security are important!
Our chair swings are proved by the TÜV and have passed the loading test with 1000 kg. Suitable for the private and public use.
Inlcuded to the scope of supply:
swallow nest chair swing Ø 120 cm,
color: black/ blue with mounting
4 larch wood bars (pillars)
Ø 16 cm, cylindrical milled and polished, 3 m long
1 larch wood bar (head bar; height 2.50 m)
Ø 16 cm, cylindrical milled and polished, 4m long
The wholes for the thread rods are not pre-drilled.
2 universal joints with security bolt (stainless steel)
1 installation-set (steel)
4 torx cases M16
4 half shell consisting out of galvanised steel with carriage bolts, nuts and green cover flaps
2 threaded rods M 12 and 1 threaded rod M 16
4 steel torx cases M 16
8 steel torx cases M 12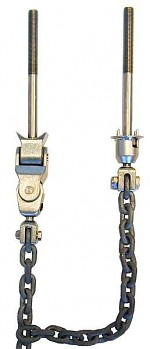 Installation:
The swing will deliver in single parts and is not pre-installed. An assembly instruction is included.
Tipps:
Would you like to get your nest swing pre-installed?
Please just contact us!
We recommend play sand as fall prevention:
Den Spielsand finden sie hier
Product information:
The wood of the larch is the hardest local softwood. It is red inside the heart and yellow in the splint. Especially the heart wood has a high resistance against weather conditions. It is very resinous and therefore without chemical wood protection usable outdoor.
When high humidity the wood is stretching, when aridity it is tighten. During the natural process tensions result. When higher humidity (in autumn/ winter) the splits are getting low. The splits are no reason to claim the swing.
Delivery:
Delivery with forwarders, the delivery happens to the kerbside.
The delivery is only possible Monday to Friday from 8 a.m. until 4 p.m. There is no chance to make out a time.
Note:
We need your phone number for the delivery so the forwarders may contact you.
Warnings EU Regulation:
Attention: In unmounted condition not suited for children younger than 3 years.
Small parts can be swallow.
Only using under adults watch.
from the categories:
Bird nest swings
,
LoggyLand Schaukeln