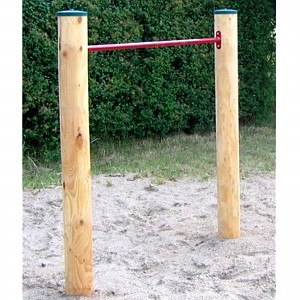 LoggyLand playground set GYM I - bar gymnastic bar
[LL9134]
The
Loggyland playground Set GYM I
is the perfect
gymnastic- and play bar
for the
home garden
and also for public playgrounds and schools.
You can choose the
height
of the bar by yourself and you can aslo change it so the playground set GYM I is growing with.
The Loggyland playground set GYM I offers
a lot of fun
and
playable sporty avtivity
.
Headlong hanging on the bar trains the sense of balance of your children. The body coordination is trained when move hand over hand, pull up and swing on the bar.
Give sense of achievement and body training with our Loggyland playground set GYM I and
encourage
the
agility
of your children.
A load capacity of 100kg offers the chance of train your muscles with pull-ups on the bar, except your kids allow you the use of their bar. Klimmzügen Ihre Muskeln am Reck stärken, vorausgesetzt, Ihre Kinder erlauben die Mitbenutzung.
School yards, kindergarten and public playgrounds is the Loggyland playground set GYM I is an enrichment for playing together.
The wooden frame out of european larch wood is untreated and weather resistant like other softwood after a pressure impregnation.
The bar consists out of
powder coated metal in red.
The Loggyland playground set GYM I correspond to the safety regulations for private and public playgrounds DIN EN 71-8 und DIN EN 1176.
Measure
: ca. 107cm x 5cm with a height of 150cm
Delivered within:
2 bars Ø 12cm à 200 cm
1 horizontal bar à 90 cm red
2 covering caps Ø 12 cm red
also material to for screwing
Warnings EU Regulation:
Attention: In unmounted condition not suited for children younger than 3 years.
Small parts can be swallow.
Only using under adults watch.
from the categories:
Balance and gymnastic equipment
,

LoggyLand Reckanlagen