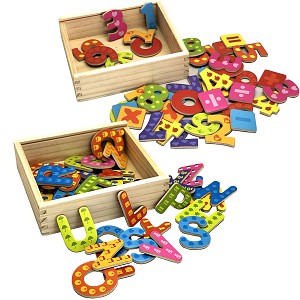 Magnet set - letters and numbers
[GR1704]
Colorful magnet letters
Come on we learn the ABC! Colorful letters consisting of wonderdul painted wood with a magnetical coat on the back and these will invite to learn writing the first words. The letters will adhere to every magnetical undercoats - so the fridge or the blackboard will be usable and they can conquer the world of letters with playing. the practical wood box is the perfect place of storage for the 37 pieces of the set. "Grandma", "hello" or "car" - with the magnetical letters are clever kids starting their first trips to the alphabet!
material: wood
measures: 17 x 15 x 5 cm

Colorful magnetical numbers
For number jugglers! The set consists of 40 numbers and inludes besides the numbers 0 to 9 also the arithmetic operators consisting of colorful, magnetical covered wood. In the practical wood box the magnetical numbers will be stowage in the child's room after the maths lesson. So with playing math exercises can be solved easily. The colorful numbers will adhere to every magnetical undercoats and promise valuable educational play fun, which is supporting the numerical reasoning. A great idea for curious kids and nascent maths-genius.
material: wood
Measures: 17 x 15 x 5 cm

Attention! This toy includes magents or magentical components. Magnets, which pull each other or a magnetical subjet in the human body can cause deadly injuries. Please contact a doctor immediatly when magnets will be swallown or inhaled.

Attention! Not suitable for children under 3 years. Small pieces. Risk of suffocation.
from the categories:
Wooden Toys
,
Handicrafts