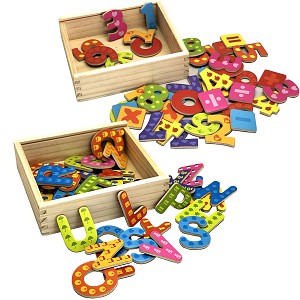 Magnet set - letters and numbers
[GR1704]
Colorful magnetical letters

Let's go we will learn the ABC! Out of wonderful looking painted wood with a magnetical coat on the back side the colorful letters invite to write the first words. The letters stick to all magnetical grounds - so the refrigerator or a blackboard can be used and the world of letters can be taken. The practical wooden box is the perfect place of storage for the 37 pieces in this set. "grandma", "Hello" or "Car" - with these magnetical letters clever kids start their first experiences with the alphabet!

Material: wood

Measure ca.: 17 x 15 x 5 cm

Colorful magnetical numbers

Fpr math wizzards! The set consists out of a total of 40 pieces and includes besides the numbers from 0 to 9 also the arithmetic operators out of colorful painted, magnetical coated wood. The magnetical numbers can be easily storaged after the math class in the child's room. In a playable way arithmetical problems can be solved. The colored numbers stick to magnetical grounds and offer valuable, educational playing fun which encourages the numerical reasoning. A great idea for curios kids and trainee math genies.

Material: wood

Measure ca.: 17 x 15 x 5 cm

Attention! This play toy includes magnets or magnetical pieces. Magnets which can be attached by metallic parts in the human body and it can cause serious or fatally injured. Please contact a doctor right a way if your child swallowed a magnet.

Attention! Not suitable for children younger than 3 years. Small items. Risk of suffocation.
from the categories:
Wooden Toys
,
Handicrafts