10-piece special brush set size 3
[TTT1698]
Special brush set 10 pieces

The special brush set was developed for the painting-by-numbers hobby and meets the high demands of hobby painters.

Features:
particularly strong synthetic hair

Handle diameter of approx. 6 mm, can therefore be easily guided

lies nicely in the hand

noble handle painting
Content:
10 pieces size no. 3 - paint black (round-pointed) - for large areas and backgrounds
Brush Breviary:
the four most common mistakes:
do not leave it standing in the water!

Never clean with aggressive agents!

Never stir paint with a brush!

Do not remove dry paint residues with your fingernails!
the right care:
a brush consists of 3 parts: handle, ferrule and brush head

Immediately apply acrylic paints onto kitchen paper.

Wash the brush in clear, warm water.

Wipe the brush head over the soap, then wash it out again.

Spread out water with a twisting motion. No more paint must adhere to the base of the clamp.

Bring the brush head into its original shape with your fingers.

Let the brush dry slowly on its side. No heater! No hair dryer!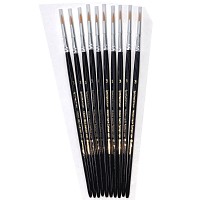 from the categories:
Handicrafts
,
Painting By Numbers