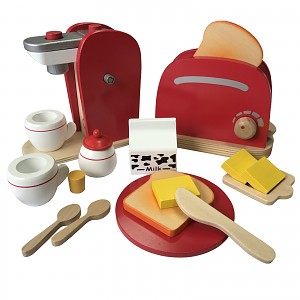 Children kitchen set - coffee machine and toaster consisting of wood red
[GR1702]
Coffee machine consisting of wood
Who wants a coffe?
This coffee machine includes:
coffee machine
Measures: (LxWxH) ca. 16 x 7 x 14,5 cm
two coffee pads
two coffee cups (ca 4 x 4 x 5 cm),
one sugar bowl with top (for opening)
two spoons (ca 6,5 cm)
buttons partially pushable (without sound)
material: wood
Toaster with a lot of accessories for the first breakfast consisting of wood
Fresh toast???
The toaster play set consists of:
toaster
measures: (LxWxH) ca. 16 x 7 x 12 cm
two slice of toast
three pieces of butter (ca 3 x 4 x 1 cm)
one plate with knife (lenght 9,8 cm)
one packet of milk
button of toaster is turnable (wihout sound) - the toast are flying out on the side with some pressure
material: wood
Warnings EU Regulation:
Only useable for the home use.
Not suitable for children under three years.
Only using under adults watch.
from the categories:
Wooden Toys
,

Kitchen Accessories