10%
for short time only
only while stocks last
244.04 €*
219.64 €*
Shipping costs for Germany: 5.95 €*
Shipping costs for other countries
Delivery time: 3 - 7 workdays
Moveandstic - construction kit Profi red - titanium-grey
[MAS-6488]
Delivery to the UK is not currently available.
Building your own play ground! You will step into a great world of constructive and creative building with the Moveandstic construction kit Profi!
The connectors (linkings) of all models will be delivered in titanium-grey!
Moveandstic stands for playing fun for the whole family. Building with Moveandstic is absolutely easy. The single parts are just plugged together and screwed with special securities.
The Moveandstic Profi construction kit is recommended as starter set but also as an adaption of already bought kits.
It is compatible to all other Moveandstic construction kits and can be adapted by single items.
Moveandstic Profi is the biggest avaiable set. Out of 300 colorful parts new constructions will result.
Thr basic kit Moveandstic Profi contains: :
1 x room linking 6-arms, titanium-grey
6 x room linking 5-arms, titanium-grey
12 x room linking 4-arms, titanium-grey
12 x room linking 3-arms, titanium-grey
1 x surface linking 4-arms, cross, titanium-grey
6 x surface linking 3-arms, T-piece, titanium-grey
6 x surface linking 2-arms 90°, titanium-grey
3 x surface linking 2-arms straight, titanium-grey
4 x tube 15 cm, colorful sorted
73 x tube 35 cm, colorful sorted
3 x arc tube 90°, colorful sorted
10 x panel 40 x 40 cm, colorful sorted
42 x panel button, black
120 x pipe plug, colorful sorted
1 x installation key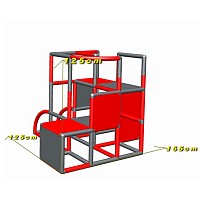 Warnings EU Regulation:
Attention: In unmounted condition not suited for children younger than 3 years.
Small parts can be swallow.
Only using under adults watch.
from the categories:
Construction Kits
,
Toddler Sets