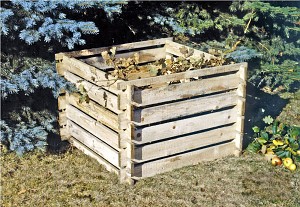 Wood composter compost silo 120x120x70 cm -KDI- plug system
[J9578]
Compost silo 120 x 120 x 70 cm - pine pressure-treated
Qualitative high quality produced wood composter
Plug system (quick to build) out of freshly sawn pine boards
Air for the compost:
Important is enough oxygen inflow for the decomposition process inside. Be careful with the wide splits between the single boards of our composter. It helps for the ventilation. So the right climate can exist in the compost and parasites and weed seeds can be exterminate effectively and ecologically.
Starting compost:
The compost should not be filled higher than 70 cm. Tipp: When you start the compost freshly, "vaccinate" it with old compost. In it you will find everything like microbes which need to start growing first in a new compost. The base is a layer out of twigs so that the air can circulate. Cover the whole composter with soil.
The compost is done when its consistence is crumbly and has a dark brown, fresh color.
Composting is very easy - with two storage sites next to each other. One for rubbish from the kitchen and garden, the other one for matured compost.
Attention:
This article is not suitable for children younger than 3 years.
Small items may be chocked.
Only for home use!
Please notice also the security notifications of the assembly instructions.
Building only by adults.
Only use under adults watch.
from the category:

Composter & raised beds