Fitness
To train the coordination and fitness of your children in a playable way the balance bars, trampolines and swinging ropes are perfect for that.
During skipping rope in a group kids can have a lot of fun.
Here you will also find everything for tug of war, beach volleyball and table tennis and also accessories tu use for an adventurous day outside.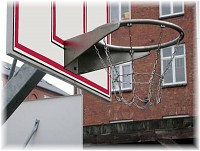 Basket ball basket galvanised with chain net.
Very strong basket including climbing net. It is secured against vandalism, heavy duty and suitable for public areas.
179.99 €**
161.99 €*
Horizontal bar with installation panel out of stainless steel 1200mm
Playground horizontal bar out of stainless steel with a diameter of 32 mm. Lengths: 1.2 m
59.99 €**
53.99 €*