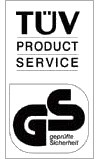 Nest swing swallow's nest chair swing Ø 100 cm
[U7079-01100]
This nest swing has kindergarten qualities and is the hit on the play ground!
No waiting at the swing anymore - here a lot of kids can swing together at the same time. The swallow nest looks like a real nest and has a diameter of 100 cm (also avaiable with a diamter of 120 cm).
Color combination: red/ blue or black/ blue
Quality and security:
This nest swing is examined by the TÜV (EN 1176) and also a load test up to 1000 kg.
Suitable for the use in kindergartens or private play grounds.
High quality material:
For the swing chair we used high quality Usacord Long-Life 16 mm ropes.
The net has 18 fixing points on the thick padded, uncutable rope ring.
Another plus: no aluminium press points on the seating spot and small meshes.
The tear-resistant Herkules ropes will be delivered with 2 connection-rings and can be produced with an individual lenght.
Swing delivery time takes around 14 days after receipt of payment.
Installation:
Max. height of hanging: 300 cm above the play level
Security area: width: 280 cm, length: like the height of hanging
Attention! Needed for the whole installation:
2 universal joints
2 security bolts with string
2 installation sets
This article you will find here
hier.
Questions?
Just send us an email: info@tiktaktoo.de
Security notification:
This article is not suitable for children below 3 years.
Small items can be swallowed by children.
Please also note the security indications from the assembly instruction.
Build up only by adults.
Only use under adults watch.
Package material is no play toy.
from the category:
Bird nest swings