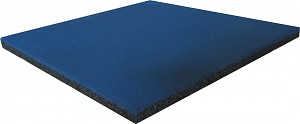 Fall protection mat rubber mat blue 25 mm
[H7112-RU-01-RO]
Fall protection mat for fall heights up to 0.90 meters made of rubber as an impact-absorbing covering.
Fall protection for private swing frames, play towers, walkway mats, lawn edges, dog kennels, etc.
Extremely weather-resistant.
Dimensions:
Dimensions: 500 x 500 mm
Thickness: 25 mm
Dimensional deviation of / - 5% possible
Colour blue
The upper part is made of colored rubber, the bottom is made of black rubber.
Simple cleaning, e.g.
using a high pressure cleaner.
Sound-absorbing, insulating effect!
Permeable to water, dries quickly, non-slip even when wet!
Durable, resilient, long service life, maintenance-free!
Minimization of the risk of injury and breakage!
Only suitable for outdoor use!
from the category:
Safety-Mats